Philadelphia: Upcoming Actions in March for Women's History Month
Global Women's Strike & Women of Color in the Global Women's Strike events for Women's History Month, March 2016
In the Philadelphia area
Sign Here for a living wage for mothers and other caregivers!
& here for the RISE Out of Poverty Act! www.everymothernetwork.net
Tues March 8, International Women's Day – Petitioning in support of the RISE Out of Poverty Act and A Living Wage for Mothers & Other Caregivers. Outside of Philly welfare offices. Call for more info and to join us!

Tales of the Grim Sleeper film Sat March 12 6:30pm
LAVA Space, 4134 Lancaster Ave Phila. Co-sponsored by Human Rights Coalition. Participate in a Day of Solidarity with victims and family members of the serial murders of Black women -- over 200 women missing or killed in LA! Donation requested for the victims' memorial fund (also donate online at http://blackcoalitionfightingbackserialmurders.org/victims-memorial-fund )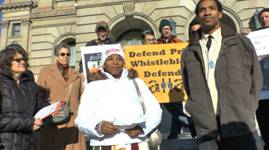 Fri March 18 12pm March for Freedom for the Dallas 6 in Wilkes Barre, PA
Join mothers, wives and family members in a march against brutality by police and prison guards. Rides leave Phila 9am. Gather at 11:30am at First Presbyterian Church 97 S Franklin St. Wilkes-Barre PA 18701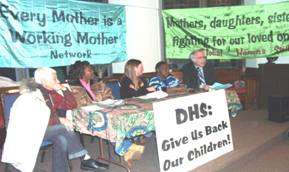 Wed March 30 6-9pm Welcome Back Richard Wexler - Fighting for mothers & kids in child welfare: Support, not separation!
Selma James, Prof Dorothy Roberts & Richard Wexler, Dir, National Coalition for Child Protection Reform. "It is extremely difficult to take a swing at mothers without the blow landing on their children." - Richard Wexler Tabernacle United Church. 3700 Chestnut St, Phila $5-$10 donation requested. No one turned away. Childcare. Food
Thurs. March 31 - 5:30pm Vigil Presentation on women's justice work at Unitarian Universalist Church of the Restoration Vigil vs police brutality and mass incarceration. 6900 Stenton Ave. Phila PA
For more info: philly@globalwomenstrike.net 215-848-1120
Tags:
Co-ordinator of Global Women's Strike
In The Guardian: Child removals mark a return to Victorian values
More Guardian articles

Sex, Race & Class - book by Selma James

Choose your favourite Selma James quote on YouTube
On BBC 100 Women Big Idea Panel
Watch videos
Quoted in NY Times Op-Ed: Pay People to Cook at Home!
Other countries we work with (so far...)