Webinar: Solitary Confinement is a Crime
Solitary Confinement is a Crime
International Webinar: 12 May 2021
2 – 3.30pm (US Eastern Time) / 7 – 8.30pm (UK)
Hosted by Legal Action for Women, Payday men's network,
Women of Colour Global Women's Strike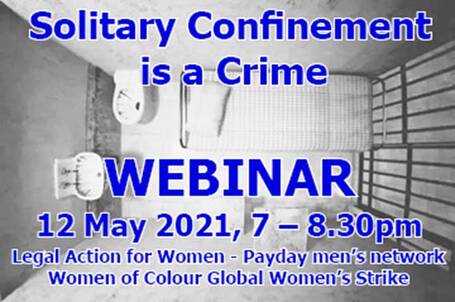 Speakers include:
· Kevan Thakrar, over 11 years in UK Close Supervision Centre – audio presentation Now in further segregation: ACTION ALERT
· Khalfan Al-Badwawi, survivor of torture and solitary confinement in Oman
· Susie Winter, former prisoner
· Derek Summerfield, Psychiatrist, member of The International Critical Psychiatry Network
· Shandre Delaney, Human Rights Coalition (US), mother of Carrington Keys, one of the Dallas 6 prisoners
· Deepa Govindarajan Driver, campaigner against the continuing imprisonment in solitary of journalist Julian Assange
· Mumia Abu-Jamal, famed political prisoner and solitary survivor – message of solidarity
The UK government denies that there is solitary confinement and that dozens of prisoners are being held in isolation, sometimes for years – 23 hours a day, having to choose whether to phone relatives or bathe, or take exercise in the one hour allowed out of their cell. Since March 2020, all prisoners have suffered these conditions – effectively held in solitary because of the pandemic.
A smaller number of prisoners are held in Close Supervision Centres (CSCs) where conditions replicate those in solitary. Prisoners describe being fed through a hatch and isolated from family and outside support. They report attacks from guards that remain unpunished and complain that there is no transparent process to decide who is placed in the CSC and therefore there is "no way out". Approximately 50% of prisoners held in CSCs are Muslim – proof that these units are institutionally racist.
A campaign initiated by prisoners is pressing the Royal College of Psychiatrists to withdraw the "Enabling Environment" status they awarded to CSCs. These awards deny prisoners' experience and provide a cover for abuse. A letter signed by 60 organizations and 200 individuals, including Professor Emeritus Angela Y. Davis, Professor and former prisoner Benjamin Zephaniah, and psychiatrists and other healthcare providers, was delivered to the RCP last December.
This webinar aims to highlight the cruelty and illegality of solitary confinement and help build the movement to end it in the UK and internationally.
---
Legal Action for Women
Women of Colour Global Women's Strike