Petition: Domestic workers law: sign TODAY / Ley trabajadoras del hogar: Firmen HOY
Español / English petition after photo and Spanish links
Las #TrabajadorasdelHogar necesitamos de tu ayuda. Firma y comparte esta petición HOY para que el Congreso no demore más el debate y la aprobación de la #LeydeTrabajadorasdelHogar #SeraLey
Our sisters in Peru's Global Women's Strike and domestic workers union FENTTRAHOP, are asking for signatures urging Congress not to delay the debate and approval of the Domestic Workers Law based on the ILO Convention 189. Please sign and share (let us know if you represent an organization) TODAY! See petition below. You can return your signature to us.
---
De: FENTTRAHOP Federación Nacional de Trabajadoras y Trabajadores del Hogar del Perú <fenttrahopperu@gmail.com>
Enviado: martes, 1 de setiembre de 2020 17:40
Asunto: ALERTA CONGRESO DEL PERÚ: URGE #LEYDETRABAJADORASDELHOGAR #AHORA #SERA LEY
Reciban el cordial saludo de FENTTRAHOP, apóyenos firmando nuestra petición y compartiendo por una nueva ley justa y equitativa #SeraLey #LeyDeTrabajadorasDelHogar. ATTE. Leddy Mozombite Linares, Secretaria General_FENTTRAHOP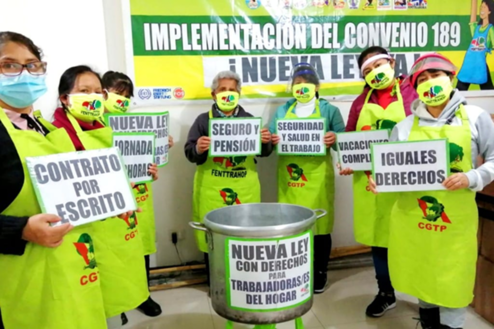 ¡Las TRABAJADORAS DEL HOGAR NECESITAMOS DE TU FIRMA!
Conoce esta petición que acabo de iniciar en Avaaz:
"ALERTA CONGRESO DEL PERÚ:URGE #LEYDETRABAJADORASDELHOGAR #AHORA #SERA LEY"
Puedes leer más sobre ella y firmar la petición aquí:
https://secure.avaaz.org/community_petitions/es/manuel_arturo_merino_de_lama_presidente_del_congre_alerta_congreso_del_peru_urge_leydetrabajadorasdelhogar_ahora_sera_ley_1/?tQJUmrb
¡Gracias!
FEDERACIÓN NACIONAL DE TRABAJADORAS DEL HOGAR DEL PERÚ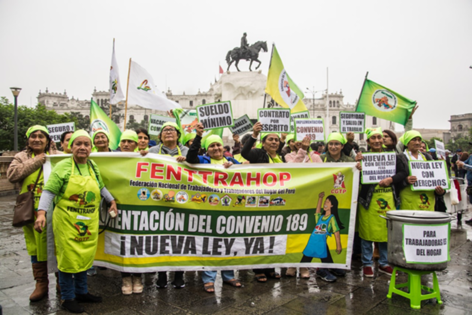 https://www.facebook.com/fenttrahop.peru/https://www.facebook.com/HuelgamPeru/
ALERT THE CONGRESS OF PERU:
WE URGE YOU TO PASS THE DOMESTIC WORKERS LAW NOW!
#LEYDETRABAJADORASDELHOGAR #AHORA #SERA LEY
PETITION by the Federation of Domestic Workers in Peru (FENTTRAHOP)
To Manuel Arturo Merino de Lama, President of the Congress of the Republic of Peru
Domestic workers in Peru suffer from exploitation and discrimination, they are often exposed to harassment and violence. Most are informally employed, which means that they work without a contract, without healthcare, with incomes below the minimum wage, and with reduced rights.
Faced with this situation in 2018, the Congress of the Republic unanimously ratified Convention No. 189 of the International Labor Organization (ILO), "Decent Work Convention for Domestic Workers". But to date this has not been implemented with a new law.
That is why, given precariousness and lack of protection, the COVID crisis has aggravated the vulnerable situation of domestic workers. About 70% of workers have been fired without any compensation; those who work have reduced salaries, longer hours with more jobs to do. And in the absence of a safety at work protocol, workers have been infected and others who are being held for months, without rest; in addition, employment agencies promote this exploitation by offering domestic workers who do not go out "during the pandemic."
The National Federation of Domestic Workers of Peru (FENTTRAHOP) together with various social organizations and the public are organizing under the slogan #LeydeTrabajadorasDelHogar #SeraLey to raise awareness and demand the approval of this just and long-awaited Law.
Therefore, the signatories ask you, Mr. President of Congress, and through you the 130 congresspeople, not to delay the debate and approval of this Law any longer. We require a vote in favor from each one of you. The domestic workers law (#LeydeTrabajadorasDelHogar) will be a historic step on the road to achieving the full and just rights that the nearly half a million domestic workers in our country urgently need to have.
FOR WORK AND A LIFE OF DIGNITY FOR DOMESTIC WORKERS!
THE DOMESTIC WORKERS LAW WILL BE LAW!31 August 2020